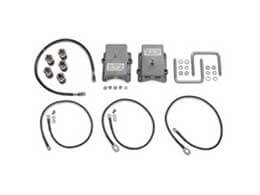 The Cambium Networks PTP 650 Wireless Broadband solutions are ruggedized to operate in the toughest environments. Lightning strikes are the most typical cause of system outages or failures of mast-mounted equipment, especially when mounted as high as 300m.
Cambium Networks strongly recommends that all PTP 650 installations should be deployed with the PTP-LPU. Network operators should always follow best-practices for grounding and lightning protection. Doing so will minimize network outages and reduce the associated costs of tower climbs and equipment repair/replacement.
The PTP Lightning Protection Unit offers two protection methods:
line-to-line
line-to-ground
Easily mounted on a wall or tower with a PTP radio, thePTP-LPU includes a minimum number of components. ThePTP-LPU is small, lightweight, making it extremely easyto transport even up to the highest towers. Each PTP 650radio requires two PTP-LPU devices (both included in thesingle kit part number) – one installed on a tower or a mastadjacent to the radio and another installed at the cableentrance point leading to the building entry point of thenetwork.