Day Wireless Systems Spokane
Information
13212 East Indiana Ave
Spokane Valley, WA 99216
Phone: 509-484-1400
Fax: 509-484-9428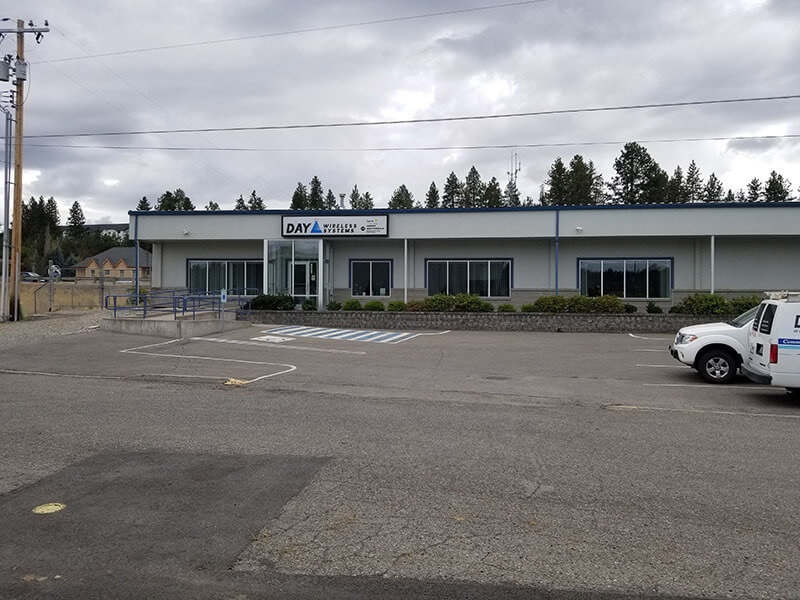 About Us
As one of our larger "regional" offices, our Spokane shop's reach is far spread and we are happy to bring our solutions to you.
We service Washington counties of Spokane, Stevens, Pend Oreille, Ferry, Lincoln, Whitman, and Adams. Our service also extends into the Idaho counties of Bonners, Boundary, Kootenai, Shoshone, Benewah, Latah, Nez Perce, and Lewis.
Our customers include the many government, healthcare, education, agriculture, utility, and manufacturing companies that are prevalent in this region of Eastern Washington and the Idaho panhandle.
Stop in and visit with one of our friendly representatives or give us a call to schedule an appointment.
A Wide Range of Products and Services from Satphone Rentals to In-Building Cellular Boosters
Day Wireless is known for deploying and maintaining critical government and commercial Motorola two-way radio systems, and for the Spokane area we are no different. However, the Spokane shop has added proficiencies in deploying in-building cellular signal boosters as well as Wi-Fi systems.
Our installers focus on tasks such as vehicular upfitting (car builds) to DAS systems, radio systems, Wi-Fi and cameras. Our system technologists have the know-how to make all of these technologies work to your satisfaction. We also have bench technicians in house able to do local repairs for your two way radios and 24x7 on call technicians for our service contract customers.
The Spokane office also houses our Eastern Washington tower/communications construction crew which gets deployed throughout the region and beyond for tower, civil, and electrical construction projects.
Very common to this area is the need for satellite phone rentals for outdoor enthusiasts. Our rentals department is prepared to outfit you with satellite communications for weekend, week long, or month long back country trips.
Testimonial
"Stevens County has developed a true partnership with Day Wireless - Spokane for all our communications and 911 Center needs. This includes a wide array of services from guidance in moving our technology forward, assistance for selecting/purchasing cost effective equipment upgrades, preventative maintenance and quick responses to our critical outages. From the mountain tops to the Communications Center, Day Wireless - Spokane provides us with one-stop advise, service and equipment."
Rick Anderson
Stevens County 911 Supervisor