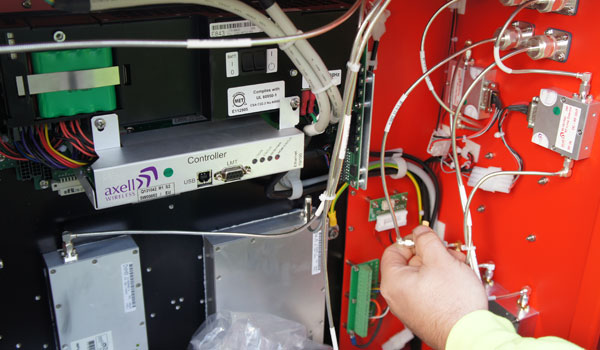 To meet the critical need of fire, police, and medical teams to communicate using "Emergency Responder Radios" inside large structures, communities are adopting the codebooks set forth by the International Code Council (International Fire Code) and the National Fire Protection Association (NFPA). In-building radio coverage requirements are met by taking the outside radio signal to a Bi-Directional Amplifier (BDA) device, and distributing it throughout the facility using a Distributed Antenna System (DAS).
DAS design and implementation can be quite complex. There can be many variables in DAS requirements based on the municipality. Frequencies, battery backup requirements, coverage requirements, and more can all be different, even in neighboring cities.
DAS systems need to be designed and tested using specialized software and hardware. These systems must be installed and tested by FCC licensed technicians. They must be re-tested every year to maintain proper operation.
Although local agencies can enhance their fire code, key elements require:
Minimal signal level of -95 dBm in 90% of the structure
Back-up power for 24 hours of operation
Applies to structures of 50,000 sg. ft. or those with below ground floors
Coverage test using a 20 grid or 40 grid process
Annual certification of equipment with grid coverage test and one hour battery test
Must be tested by an FCC licensed or factory certified technician
Here are links to state fire codes, however, local jurisdictions may enforce amended versions or use different codebooks. Please consult with a Day Wireless DAS specialist in order to find the local Emergency Responder Radio code requirements for your project.
Oregon
http://www.oregon.gov/osp/SFM/Pages/2014ORFireCode.aspx
Washington
https://app.leg.wa.gov/wac/default.aspx?cite=51-54A
California
http://www.bsc.ca.gov/codes.aspx
Idaho
https://doi.idaho.gov/sfm/Prevention/Statutes
Wyoming