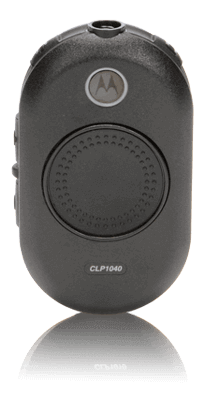 CLP combines comfort, durability and simplicity in a sleek design. Designed for the retail and hospitality markets, the CLP1040 two-way business radio operates on 4 channels with a choice of 90 UHF business-exclusive frequencies. This palm-sized device redefines the traditional two-way radio by including only essential elements. An embedded antenna gives it a sleek shape. A large central push-to-talk button makes CLP easy to operate. And a variety of accessories offers multiple wearing options. CLP was designed with the user in mind, helping you communicate seamlessly and naturally in your business environment.
Motorola CLP1040 Features
4 Channels, 1 Watt
90 UHF Business Exclusive Frequencies
Voice Prompts
Optional Programming Software
Small Form Factor
Smart Status Glow
Long Battery Life
Repeater Compatible
Headset Included
Antimicrobial Protection
Large Center Push-to-talk Button
Integrated Antenna
Motorola CLP1040 Downloads
Brochures and Specifications
Motorola CLP Series Brochure
Motorola CLP Series Spec Sheet
Bluetooth Accessory Kit for CLP Radios Fact Sheet
Case Studies
CLP Two-Way Radio: Improved Communications Enhances the Guest Experience CLP Two-Way Radio: Increased Productivity and Enhanced Customer Experiences CLP Two-Way Radio: More Diners Served, More Comfortable Dining Experiences.