Overview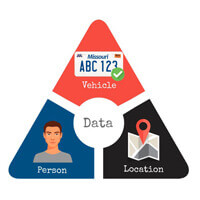 Only Vigilant Solutions' License Plate Recognition (LPR) platform includes powerful analytics that helps to complete the investigative triangle of person, plate and location and that's why agencies consider it a true force multiplier and essential law enforcement platform.
Investigative Capabilities Solving More Crimes Faster
Because Vigilant's solution was built by former law enforcement, we understand the challenges you face; we know the crimes you investigate; and we know how to help you solve more crimes. Our LPR solution isn't just for finding stolen vehicles. It's for that and much more.
Agencies put Vigilant's LPR solution to the test every day developing leads and solving crimes including: Abductions, Assault, Burglary/Theft, Drug Rings, Homicides, Kidnapping, Missing Persons, Organized Crime, Pattern Crimes, Rape, Terrorism, and Trafficking.
How LPR Works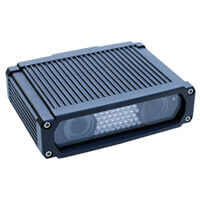 Data Capture
Fixed and mobile license plate recognition (LPR) cameras take photos of license plates, capturing the date, time, and GPS coordinates of where the photo was taken- just like any smartphone camera.
LPR Data Storage
Each plate image captured, along with the data for that image (date, time, location), is stored in our Virginia database as an LPR record that can be searched only by authorized personnel.
Data Ownership
Your agency owns the LPR data it generates and you can decide whether you want to share that data with other agencies. And the more data available, the greater chance you have to develop a lead.
Commercial Data
Even without LPR cameras, you can benefit by using our Commercial Data. We are the only LPR provider that can offer over 5 billion nationwide detections and over 150 million more added monthly.
Law Enforcement Agency Sharing
We believe the power of LPR is in the data and analytics. In addition to access to our commercial data, agencies can choose to share with other law enforcement agencies to gain access to another 1.5B detections nationwide.
Fixed LPR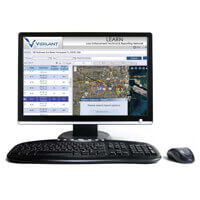 Vigilant's Fixed LPR solution features a fully integrated, but compact camera and LPR processing unit. Operating with seamless integration to LEARN, or as a stand-alone product with a published Application Programming Interface (API) for customized needs.
Wrap a virtual fence around your community with Vigilant's fixed License Plate Recognition (LPR) solution, to proactively prevent crime and improve safety. Add investigative power and enhance safety with fixed LPR cameras without increasing manpower. Strategically positioned cameras at entries and exits create the virtual fence.
Receive alerts when vehicles of interest enter your community
Identify rolling stolens
Get more information for criminal investigations
Customize for any application (security, parking, access control)
The System
Features a ruggedized and compact dual-lens (infrared and color) LPR camera engineered for extreme conditions. The camera recognizes license plates in the camera's field of view, matches against various agency hotlists and notifies law enforcement of matches. The system can also stream live video to a separate location such as a video management system.
Unique Features
The Target Alert Service allows for alerts from fixed-camera vehicle sightings to be broadcast from LEARN to any computer or mobile device. A published Application Programming Interface (API) allows for custom applications such as gate triggering and communications with external systems.
Superior Performance
Second-to-none performance featuring plate recognition accuracy (the ability of the system to automatically trigger an image capture on the presence of the license plate), and plate-read accuracy (the ability of the system to accurately interpret the characters).
Mobile LPR/ALPR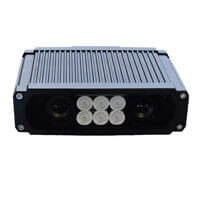 Vigilant Mobile LPR is the industry's premier mobile LPR product. Managed from LEARN, Mobile LPR focuses officers' efforts on known vehicles of interest for appropriate and real-time intervention.
Vigilant Solutions' Mobility Kits provide agencies with a way to rapidly deploy high-performance License Plate Recognition (LPR) for special events, tactical operations such as roadside checkpoints, and for use on unmarked vehicles.
The Mobility Kit's portability is also ideal for agencies that do not have dedicated LPR patrol vehicles and need to share an LPR system across multiple vehicles. Operational within minutes, and managed from within LEARN, the Mobility Kit complements any agency's LPR program.
With an easy and intuitive user interface, Vigilant's Mobile LPR provides officers in the field with real-time field intelligence to improve their safety and enhance the efficiency of their patrol. The system provides a great deal of functionality with the user's needs in mind, but with advanced capabilities not available anywhere else.
The System
Uses up to four (4) dual-lens LPR cameras, each with integrated Digital Signature Processors (DSP), and advanced imaging and recognition algorithms to provide the most advanced mobile LPR system available.
Exclusive Features
Featuring large buttons, visual system status indicators, scrolling plate history, and even a Day/Night mode to eliminate brightness in the vehicle during nighttime operations for officer safety. Mobile LPR from Vigilant is quite simply the most user-friendly interface available on the market.
Unmatched Ease of Use
With very little training, officers can immediately realize the benefits of LPR. Plate recognition accuracy and plate reach accuracy is superior based on Vigilant's talented team of engineers, and officers can experience immediate productivity gains and improved enforcement.
Camera Solutions
Mobile LPR
Outfit Your Squad Car with the Best
Uses up to 4 dual-lens LPR cameras with Digital Signature Processors (DSP)
Easy and intuitive interface
Day/night interface for officer safety
Car Detector Mobile (CDM) software is loaded onto the laptop and updates are automatically pushed to the car
Fixed LPR
Employ Strategic and Intelligent Scans
Placed at strategic locations for high-volume scanning in a city or critical infrastructure location
Integrated camera/processor unit with single Power-over-Ethernet for easy deployment
Dual-purpose camera with secondary ONVIF video stream available
Versatile, customized alerting to the right people anytime, anywhere
Powerful Searches
Plate, Partial Plate, Year/Make/Model or Address
Start any point to complete the triangle during an investigation. Between agency resources, like DMV lookup, and Vigilant can help you complete the triangle to develop more investigative leads.
Search by Plate
Search for plates on your hotlist and get alerts when the plate is spotted. Search historical data to find where the plate has been spotted in the past, whether the vehicle was present at the scene of the crime, or identify alibis and witnesses.
Search by Partial Plate
Enter a partial plate along with any other data you have like date, location or time and you can search for the full plate number.
Search by Year/Make/Model
Narrow a potentially massive number of vehicles down to a manageable number, saving you time and resources.
Search by Address
Focus on when and where a crime took place and compare it to historical LPR data to determine what, if any, vehicles were at the location during the time a crime occurred.
In the Office and In the Field
Reinforcing the Thin Blue Line: In the Office and In the Field
Vigilant's LPR solution works with you, when and where you need it.
In the Field
Mobile/Car
Create and manage your hotlist of vehicles of interest
Receive alerts important to your agency and officers (customized to your agency)
Conduct vehicle canvasses: snap plates using your mobile device, immediately available for analysis
In the Office
Desktop/Browser
Create and manage your hotlist of vehicles of interest
Receive alerts important to your agency and officers (customized to your agency)
Rapidly deploy resources to the correct locations
Security, Storage and Privacy
Data Privacy
Vigilant Solutions maintains strict controls to ensure data security and privacy. The only way to link personally identifiable information like a name, address, or face to anonymous data records is to obtain access to a state's Department of Motor Vehicles database. That access is currently restricted by federal law via the Driver's Privacy Protection Act (DPPA) and carries stiff fines and federal prison penalties for any violation.
Data Storage
We store LPR data on secure servers in Virginia. Our provider hosts many Fortune 500 and government servers and provides redundant power sources, redundant fiber connectivity, redundant disk arrays, environmental monitoring, secure access control, physical escorts for onsite visitors, multiple diesel fuel backup generators, active fire prevention and suppression, and onsite system administrators and engineers. Alternatively, we can set-up onsite servers as needed.
Data Security
Only credentialed law enforcement officers with a valid Originating Agency Identifier (ORI) number issued by the Criminal Justice Information System (CJIS) Division of the Federal Bureau of Investigation (FBI) may access the data on the hosted server. Vigilant Solutions is compliant with all relevant requirements outlined in the FBI-CJIS Security Policy.