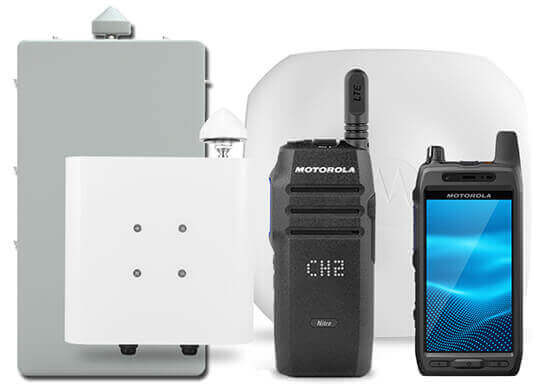 CBRS Delivers on Business-Critical Communications
No matter the size of your business or the type of environment you work in, chances are Wi-Fi has become an invaluable tool for your business-critical operations. But as the number of devices, applications, and users continues to grow with your business, the weakness and limitations of your Wi-Fi network are becoming more exposed.
Let's face it, Wi-Fi was not designed to support your business-critical workplace. Citizens Broadband Radio Service (CBRS) was. Now you can integrate CBRS with your single end-to-end Team Communications ecosystem.
Deploying and maintaining private LTE can be challenging, but with Nitro, Motorola has taken steps to make the process easier. Nitro combines lightning-fast private broadband, operation-critical data and premium voice push-to-talk communication. This solution allows data to stream securely, quickly, and reliably through networks. With twice the capacity and up to four times the range of Wi-Fi, Nitro gives your Unified Team Communications ecosystem a mighty boost and lets you do more with less.
Create Your Own Secure Private LTE Network with Nitro
Nitro™ delivers enterprise-grade private broadband that outperforms Wi-Fi while providing unmatched simplicity and control. Get secure, enterprise-grade broadband flowing across your business.
Nitro Foundation Kit
The pre-configured Nitro Foundation Kit is an easy way to start-up a Nitro network. Designed as the foundation of your private LTE network, it offers a hassle-free deployment, with a minimal investment to test if CBRS meets your business needs. You can easily expand it with additional infrastructure and devices to your entire enterprise.
NIST Cybersecurity Framework
Motorola Solutions uses a risk-based approach throughout their entire product development, implementation and operational support lifecycle. They strongly believe in three foundational pillars of cybersecurity: confidentiality, integrity and availability and address these pillars with the application of protection, detection, and response controls built with industry-leading people, processes, and technology.
One of the most important standards and guidance for information protection is the Cybersecurity Framework (CSF), which helps provide structure and context to cybersecurity. Motorola Solutions follows the NIST Cybersecurity Framework to protect the Nitro LTE Evolved Packet Core, Radio Access Network.
CBRS Alliance
Motorola Solutions is a board member of the CBRS Alliance. The CBRS Alliance supports the common interests of members, implementers and operators for the development, commercialization, and adoption of LTE solutions for the US 3.5 GHz Citizens Broadband Radio Service. They also provide a list of all the devices that are CBRS capable. To learn more about the CBRS Alliance click here.
NITRO Advantages
Secure Private LTE Network
Fully Managed CBRS Platform
First Purpose-Built OnGo Radio
On-Premise Private Broadband
Portable Wi-Fi Hotspot
2 x Wi-Fi Capacity
4 x Wi-Fi Range
Cloud Management
NITRO Key Features
Increased Accessibility
More Efficiency
NIST Cybersecurity Framework
Ground-Breaking Advancement
High-Fidelity Wideband Audio
Wi-Fi 2.4 GHz and 5 GHz Compatible
NITRO Resources
Brochures
Data Sheets
Solutions Briefs
Specification Sheets
White Papers
Videos