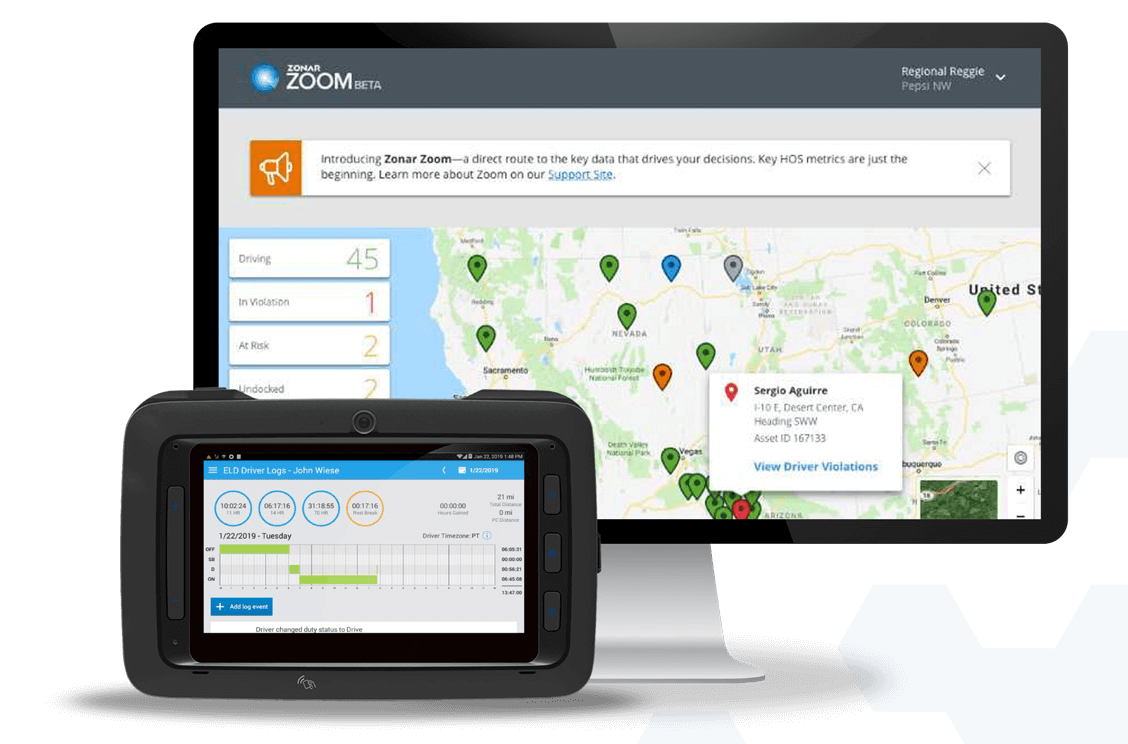 Ensure Compliance, Then Get on With Business
Make sure your drivers operate safely and comply with the electronic logging device (ELD) mandate. Zonar Logs is self-certified with the U.S. Federal Motor Carrier Safety Administration (FMCSA). It's also completed end-to-end testing, successfully transmitting log data while roadside to the same eRODS system used by state and federal law enforcement members to verify compliance.
Make It User Friendly
The easier a new technology is to use, the easier it makes being compliant. Drivers access Zonar Logs through their Zonar tablet to view their available hours, update their duty status, and electronically certify and submit their Hours-of-Service (HoS) records. Its Roadside View™ feature makes it easy for law enforcement to view the driver's logs during a roadside inspection. Roadside View and back-office view display information uniformly, so drivers and dispatch can communicate more easily.
Ensure Compliance, Then Get on With Business
Prevent Violations with Preemptive Alerts
Ensure Compliance with The Latest Laws
Automate Logs and HOS Reporting
Monitor Driver Compliance and Safety
Key Features:
Meets Canadian regulations for Cycle 1 and Cycle 2
Meets title 49 CFR 395 ELD and HoS supporting documents
Self-certified with FMCSA
FMCSA registered
Alerts drivers of approaching violations
Roadside View for easier inspections
Unidentified drivers logs
Live Status map view
Count per violations
Automatic software updates with new and updated laws
24/7/365, U.S.-based technical support from Zonar Customer Care